October 27, 2020
Meet the Team: Anna Renna, Sales and Construction Coordinator
Posted by Bonadelle Neighborhoods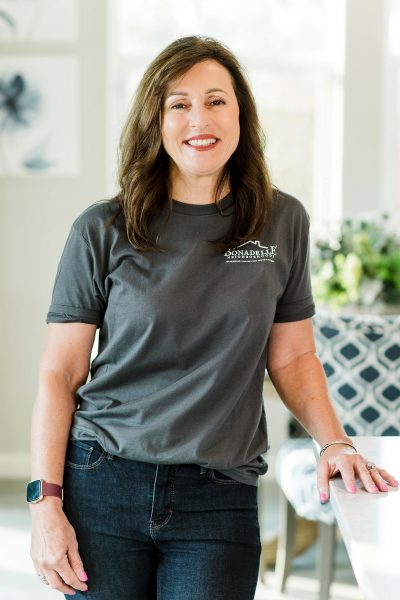 Anna Renna serves as Bonadelle Neighborhoods Sales and Construction Coordinator and after 32 years of working at the company, it's safe to say that Renna is an expert at what she does. Renna plays a vital role in the homebuying process and acts as the company's 'control center'. All paperwork, design options, and contracts go to Renna's desk. She is there for the homeowner from the beginning steps all the way to the end of the process when she makes the new homeowner baskets with the keys inside.
Over the last few decades Bonadelle Neighborhoods has played a role as both Renna's employer and extended family. When Renna started working at Bonadelle Neighborhoods her daughter was only seven months old. When her daughter grew up and joined the work force, she worked at Bonadelle Neighborhoods. Renna's family ties with Bonadelle Neighborhoods don't end there. Her son and his family were recently house hunting and ultimately chose to live in a Bonadelle Neighborhoods home.
Having been hired by JB, Renna has seen the transition of roles between him and John Bonadelle. More recently, Renna has also experienced the beginnings of the next transition within the company with John Anthony and Bianca Bonadelle and Tyler Pryor joining the Bonadelle Neighborhoods team. The perspective and experiences Renna has gained over the years maker her a vital employee to Bonadelle Neighborhoods.
Q: What about the company has made you want to stay here for so many years?
Renna: "I love that they are family oriented first. JB would close the office during the Christmas/New Year's Holidays so we could be home with our families. I never had to miss a school event, awards, cross country meet, soccer, basketball games for my kids or grandkids."
Q: What has it been like to see the transition between generations of families working for Bonadelle Neighborhoods?
Renna: "I love, love, love seeing the kids, John Anthony, Bianca and Tyler Pryor grow up and take part in Bonadelle Neighborhoods. My daughter also worked here as a receptionist for a few years.
Q: What about this company do you believe sets it apart from others in the industry?
Renna: Bonadelle homes have been around the Fresno area for years, they are a quality-built home at affordable prices.
Q: What is the most rewarding aspect of your job?
Renna: "Knowing that these families have made a very important purchase and now have a new home that they can take pride in. My son just purchased a Bonadelle Neighborhoods home in Bella Vista in Friant. His family loves it there and that makes me happy.