October 20, 2020
Meet the Team: Cindi and John Dewey, Sales Counselors at Canyon Creek
Posted by Bonadelle Neighborhoods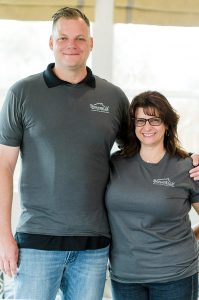 Potential homeowners who walk into the Canyon Creek welcome center will be greeted with the friendly smiles of Cindi Hargrave and John Dewey Miles and will most likely be offered a fresh cookie and a plethora of candy. To both Hargrave and Miles being a sales counselor at Bonadelle Neighborhoods doesn't mean just selling houses, to this team it's all about building a community, and they want every person who walks through the welcome center doors to feel at home within the community. From the very beginning of the homebuying process new homeowners will experience the confidence this team has in the company they work for, the knowledge they both have in the product they are selling, and the support they offer each new buyer.
Hargrave has sold homes in nine different communities over the last 10 years that she has worked for Bonadelle Neighborhoods and has simultaneously built friendships with her buyers while the company builds their new dream home. For Miles, Canyon Creek is the first Bonadelle Neighborhoods community he has sold at after being hired three months ago, and he is looking forward to the next communities he will sell.
Interview with Cindi Hargrave:
Q: What is your favorite thing about this job?
Hargrave: "Seeing what was once a dirt field become a community, watching the kids riding their bikes, families taking evening walks, and new mothers pushing strollers. Knowing that in some way I have helped make this possible."
Q: What about this job surprises you?
Hargrave: "The many close friendships and personal relationships that I have been blessed to make with my buyers that have continued even after I have moved to another community."
Q: What about the homebuying experience do you think is the most important thing for potential homeowners to know?
Hargrave: "Do not lose sight of the dream of becoming a homeowner. It is possible and all they have to do is start the process and give us an opportunity to make their dream come true. Bonadelle Neighborhoods strives to make a prospective buyer into a homeowner from the very moment they walk into our welcome centers. We figure out a way to sell them a home, even when they aren't prequalified. That is the dream that Mr. Bonadelle had when first starting his company, for everyone to attain the American dream."
Interview with John Dewey Miles:
Q: What do you believe sets Bonadelle Neighborhoods apart from other builders?
Miles: "I did not grow up in Fresno, but I have a decent social circle since I moved up here. Everyone knows Bonadelle Neighborhoods, even up in Coarsegold. Bonadelle is family owned business and there is something to be said about that. It is more personal from an employee and homebuyer position."
Q: What advantages do you think being a local homebuilder has in regard to warranty for homeowners?
Miles: "The most important thing is the confidence they will get when they buy a Bonadelle Neighborhoods Home."
Q: What is your favorite thing about this job?
Miles: "My favorite thing about this job is handing the homeowners their baskets, you can never quite anticipate their reaction."