September 1, 2020
Meet the Team: John A. Bonadelle
Posted by Bonadelle Neighborhoods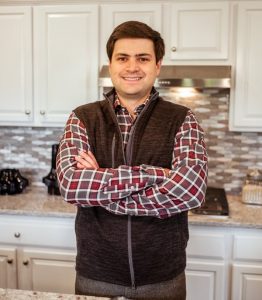 From a very young age, John Anthony Bonadelle knew he wanted to be involved in the homebuilding industry, just like his father and grandfather. To him, physically seeing the results that you are continuously working towards, like a new community that a few months prior was only a vacant field but is now filled with moving trucks in the driveway and excited families moving in, is unlike any satisfaction he could receive from another industry.
Growing up John A. would spend early summer mornings out at the construction site learning the foundations for how to build a quality home. After getting his realtors license in college, he eventually moved on from the construction site to the sales offices and began selling the homes that he once used to build.
John A. now acts as Bonadelle Neighborhoods Director of Operations, his responsibilities include locating, entitling, and acquiring undeveloped properties that have the potential to be valuable for the company. We sat down with John A. to talk more about his vital role in the company, how he plans on continuing the strong legacy his father and grandfather have built over the last 75 years, and his future goals as a young professional.
Q: Explain the process of finding an undeveloped lot and transforming it into a community that families can enjoy for generations to come?
Bonadelle: "I am more or less involved with every step from taking a vacant undeveloped property to preparing it for homes to be constructed on. This includes working with local land sellers to identify properties we feel can be created into a neighborhood that is appealing to both future residents and the surrounding neighbors; working with the cities to create an entitled subdivision and then ultimately budgeting for and developing a property into a future community. I also have a handful of other various responsibilities such as serving on our existing homeowner associations (H.O.A.'s) executive boards prior to us completing a neighborhood and the homeowners ultimately managing their own H.O.A.'s."
Q: What made you want to return to the Valley after having lived in Dallas?
Bonadelle: "The Central Valley has always been home to me, and it is a great place to work and live. Central Valley residents are extremely friendly, honest and hardworking, which I very much value. From a career perspective, I have always wanted to work with the company and felt I could make a positive impact to Bonadelle Neighborhoods and the home buyers we serve."
Q: How do you uphold the legacy of your grandfather and father in your everyday work?
Bonadelle: "My grandfather built a successful career and company off the idea of creating value by building quality, affordable housing for thousands of Californians looking to achieve the American Dream of homeownership. Over the years California has become an extremely expensive place to live, but despite this Bonadelle Neighborhoods still continues to create the opportunity for homeownership at an affordable price for hundreds of new homeowners each year. For instance, our Legacy Series communities are some of the most affordable first-time home buying opportunities in the entire state of California. These communities are being built in Clovis Unified, one of the premier school districts in California; Riverstone, a top master planned community in the country; and in northwest Fresno, an extremely desirable neighborhood. That is a tremendous level of value for our home buyers and they will see their value continue to grow as they live in their homes long term. Our Signature Series offers pool sized lots that are becoming increasingly rare to find in California and provide the ability for families to grow into their home and enjoy their own piece of California.
Long term, John A. plans on continuing to build homes with the same quality and affordability that Bonadelle Neighborhoods has offered for 75 years while also evolving and developing new floor plans.