September 29, 2020
Meet the Team: Tyler Pryor
Posted by Bonadelle Neighborhoods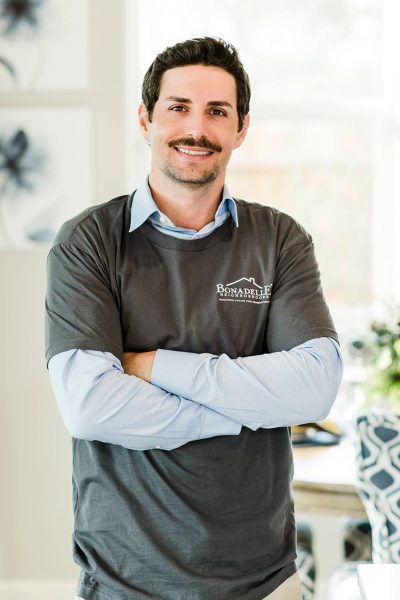 The Bonadelle family isn't the only family working at Bonadelle Neighborhoods. Dean and Tyler Pryor have been a hardworking father and son team within the office for eight years. Bonadelle Neighborhoods was Pryor's first employer after graduating from Fresno Pacific University and the company has had a unique opportunity of watching him grow from a recent college graduate into a young professional. When Pryor first started with the company, he joined the sales team and was mentored by his father, Dean, and John Bonadelle, who passed down their knowledge from JB to him.
After eight years of working as a Sales Counselor, Pryor recently transitioned to Loan Officer at Premier Mortgage Inc. where he helps Bonadelle Neighborhoods customers find the right loan in order to purchase their dream home. Pryor's years in sales paired with the mentorship he has received from both his father and John Bonadelle makes him the perfect fit as a Loan Officer. Bonadelle Neighborhoods is excited to watch Pryor continue to grow in this new position and looks forward to many more years of working alongside the Pryor family.
Q: Please provide a little background on your journey to working at Bonadelle Neighborhoods.
Pryor: "I was born and raised in Fresno,Ca. I went to high school at Clovis West and ended up graduating from Fresno Pacific University. All I did growing up was play baseball and go to school. I was very fortunate that my parents never missed one of my games, from T-ball all the way through college ball. With my dad being an important part of Bonadelle Neighborhoods, I can't thank the Bonadelle family enough for giving him the flexibility to share in all of those experiences with me. I have grown so much as a person in the last 8 years with Bonadelle Neighborhoods and can't wait for this new chapter with Premier Mortgage, Inc."
Q: What made you want to follow in your father's footsteps and work at Bonadelle Neighborhoods?
Pryor: "I was in my last semester of college and wasn't sure what direction I wanted to go. Without my knowledge, my Dad had spoken to John Bonadelle about making me a part of the sales team. Caught off guard, they offered me a job with Bonadelle Neighborhoods and I thought it would be a great opportunity. Bonadelle Neighborhood's has done so much for my family, I knew I was in good hands and that it would be the best decision for me moving forward."
Q: What is it like working for a family company alongside your own family members?
Pryor: "Being able to work alongside my Dad and the Bonadelle family for the last 8 years has really been an eye-opening experience. The Bonadelle family has some of the hardest workers I've ever seen. You don't really know what to expect starting a new venture but seeing everyone work together to make sure the company runs as smooth as possible is something really cool to see."
Q: What are some of the most important things you have learned from your father and John Bonadelle about the homebuilding industry?
Pryor: "John takes a lot pride in his sales skills he learned from his father. He always has good sales tips and he knows every aspect of the homebuilding process, which he is never shy about passing along. My Dad and John form a great team. They understand each other and always seem to be on the same page. The homebuilding industry is always changing, but the foundation of Bonadelle Neighborhoods is as consistent as ever."
Q: What has the transition from Sales Counselor to Loan Officer been like?
Pryor: "I have always been a numbers guy like my dad.  It's been a very smooth transition from new home sales to lending.  I love helping people find a loan that works for them.  Not every loan is the same, so helping borrowers understand the differences and make decisions based on that is something I really enjoy.  I pride myself in being someone people can trust.  Getting a loan is a huge deal, so having someone you can trust guide you through the process is a very important thing."'
Pryor's NMLS #: 1924385